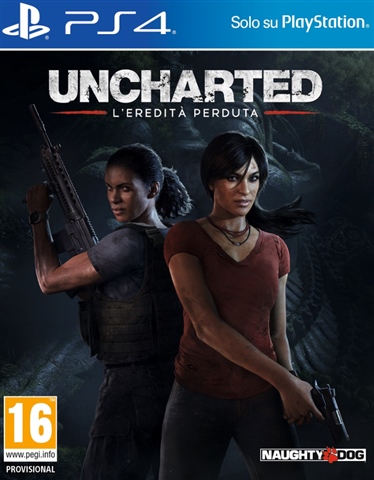 Uncharted: L'Eredità Perduta

(Senza DLC)

Wesell per
€42.00
Webuy per Contanti

€24.00

Webuy con Voucher

€29.00

Disponibile on-line:
Solo 1 Rimasti
Uncharted: L'Eredità Perduta (Senza DLC)
Una nuova e incredibile avventura
Dagli acclamati autori di successi quali The Last of Us e Uncharted 4: Fine di un ladro arriva un nuovo e appassionante viaggio all'insegna del pericolo e dell'azione esplosiva.
Per recuperare un antico manufatto indiano e sottrarlo alle grinfie di uno spietato speculatore di guerra, Chloe Frazer è costretta ad allearsi con la mercenaria Nadine Ross, già apparsa in Uncharted 4: Fine di un ladro.
Insieme si inoltreranno tra le montagne dell'India e impareranno ad aiutarsi l'un l'altra per fare luce sul mistero del manufatto, tentando di fermare nemici agguerriti prima che la regione sprofondi nel caos...
---